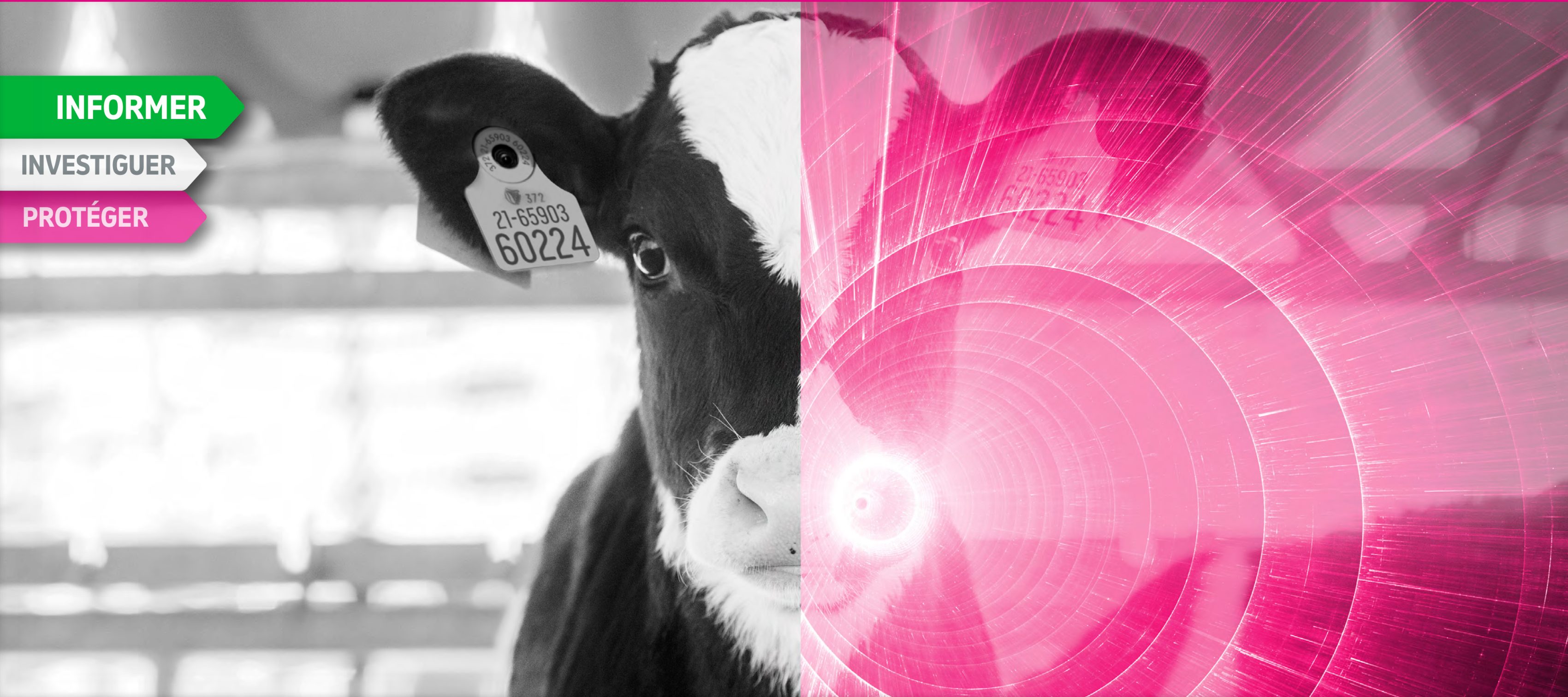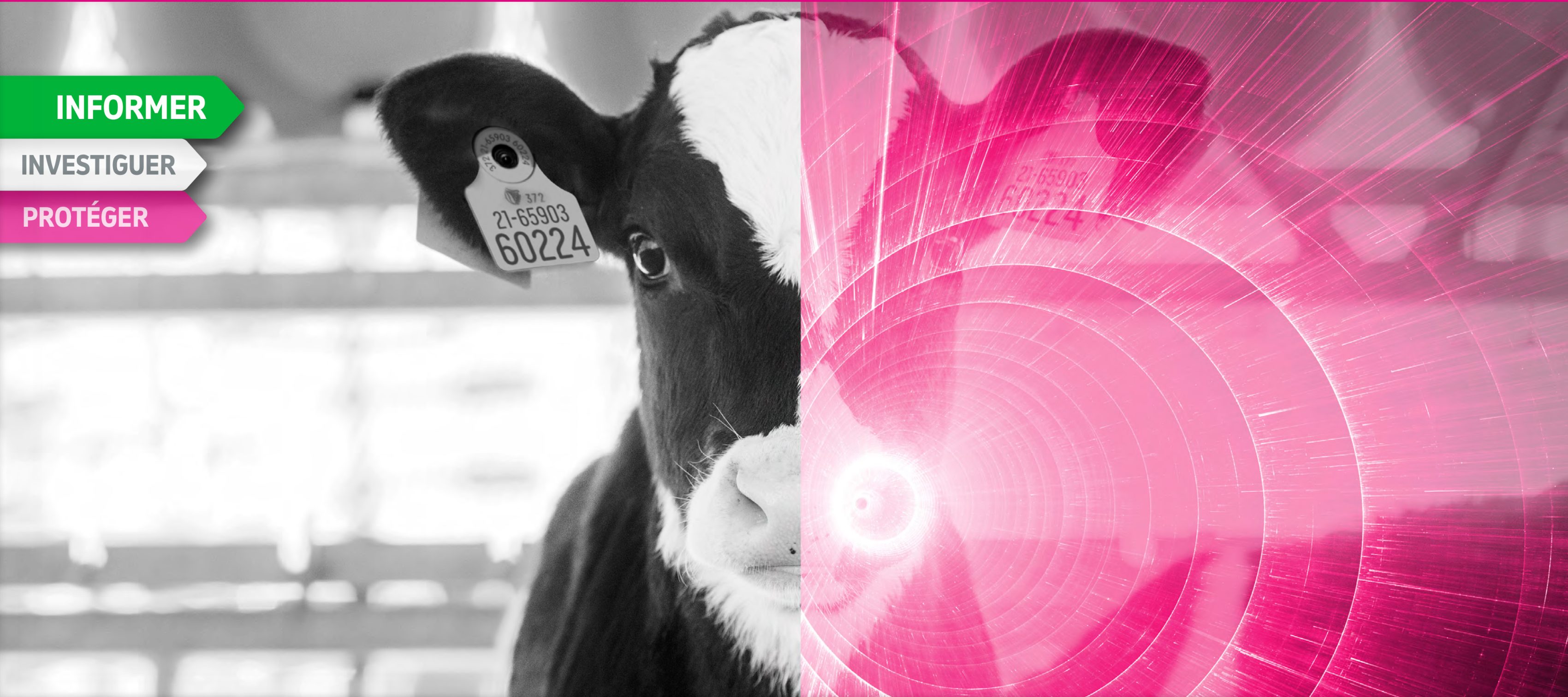 Coronavirus respiratoire
Cliquez ici pour passer à la page suivante :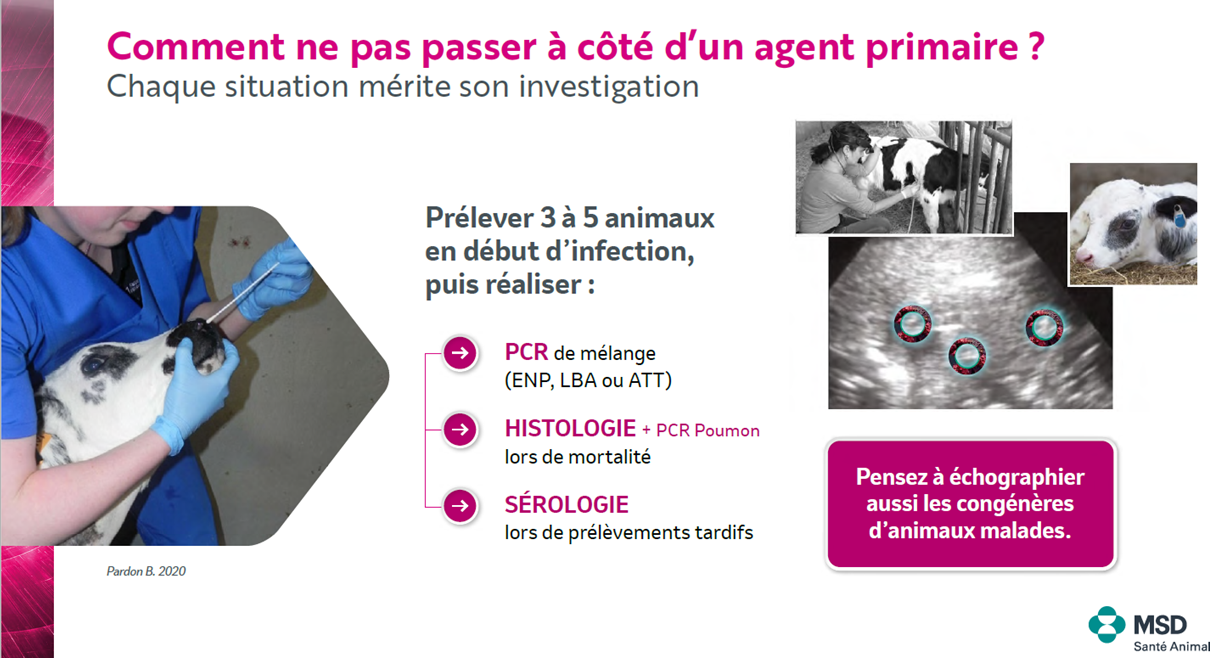 Cliquez ici pour passer à la page suivante :
BIBLIOGRAPHIE
Bareille 2018. Bareille N, Seegers H, Denis G, Quillet JM, Assi S, (2008), Impact of respiratory disorders in young bulls during their fattening period on performance and profitability, Renc Rech Ruminants. 2008;15.
Berge and Vertenten 2022. Berge AC, Vertenten G., PREVALENCE, BIOSECURITY AND RISK MANAGEMENT OF CORONAVIRUS INFECTIONS ON DAIRY FARMS IN EUROPE 2022, World Buiatrics Congress, Madrid, Spain.
Boileau 2010. Boileau MJ & Kapil S. Bovine Coronavirus Associated Syndromes. Vet Clin Food Anim. 2010; 26: 123–146.
Caswell 2013. Caswell JL. Failure of Respiratory Defenses in the Pathogenesis of Bacterial Pneumonia of Cattle. Veterinary Pathology. 2014;51(2):393-409. doi:10.1177/0300985813502821.
Decaro et al 2020. Decaro N & Lorusso A. Novel human coronavirus (SARS-CoV-2): a lesson from animal coronaviruses. Vet Microbiol. 2020. Disponible sur : https://doi.org/10.1016/j. vetmic.2020.108693. Consulté le 16 avril 2020.
Delabouglise 2017. Delabouglise A, James A, Valarcher J-F, Hagglünd S, Raboisson D, Rushton J (2017), Linking disease epidemiology and livestock productivity: The case of bovine respiratory disease in France. PLoS ONE 12(12): e0189090.
https://doi.org/10.1371/journal.pone.0189090.
Dunn 2018. Dunn, T.R., et all. (2018), The effect of lung consolidation, as determined by ultrasonography on first- lactation milk production in Holstein dairy calves, J. Dairy Sci., 101: 1-7, 2018.
Ellis et al 2019. Ellis J. What is the evidence that bovine coronavirus is a biologically significant respiratory pathogen in cattle ? Can Vet J 2019; 60: 147–152.
Jozan 2021. Jozan, T. Exposition des veaux aux principaux agents respiratoires dans 16 elevages laitiers de l'Ouest de la France. 2021, GTV congress, Tours, France.
Gulliksen 2009. Gulliksen SM, Jor E, Lie KI, Hamnes IS, Løken T, Akerstedt J, Osterås O. Enteropathogens and risk factors for diarrhea in Norwegian dairy calves. J Dairy Sci. 2009 Oct;92(10):5057-66. doi: 10.3168/jds.2009-2080. PMID:
19762824; PMCID: PMC7094401.
Gumusova 2007. Gumusova OS., Yazici Z, Albayrak H, Çakiroglu D. First report of bovine rotavirus and bovine coronavirus seroreprevalence in goats in Turkey. Vet Glasnik. 2007; 61: 75- 79.
LEVESQUE C., LEQUEUX G., JOZAN T. BPI (Bronchopneumonies Infectieuses bovines). Eclairer son diagnostic en associant les analyses. In : Proceedings Journées Nationales des GTV, Tours, France. 2022; 497-510.
MAILLARD R., MEYER G. Coronavirus et coronaviroses des bovins. Bull GTV. 2021 ; 101 : 41-48.
Nicola D., Vito M, Saif LJ, Canio B. COVID- 19 from veterinary medicine and one health perspectives: what animal coronaviruses have taught us. Res Vet Sci. 2020. Disponible sur : https://doi.org/10.1016/j.rvsc.2020.04.009.
Consulté le 8 avril 2020.
O'Neill, 2014. O'Neill R, Mooney J, Connaghan E, Furphy C, Graham DA. Patterns of detection of respiratory viruses in nasal swabs from calves in Ireland: a retrospective study. Vet Rec. 2014 Oct 11;175(14):351. doi: 10.1136/ vr.102574.
Epub 2014 Jul 18. PMID: 25037889.
Oma, 2018. Oma VS, Klem T, Tråvén M, Alenius S, Gjerset B, Myrmel M, Stokstad M. Temporary carriage of bovine coronavirus and bovine respiratory syncytial virus by fomites and human nasal mucosa after exposure to infected calves. BMC
Vet Res. 2018 Jan 22;14(1):22. doi: 10.1186/s12917-018-1335-1. PMID: 29357935; PMCID: PMC5778652.
Padalino B., Cirone F., Zappaterra M., Tullio D., Ficco G., Giustino A., Ndiana LA., Pratelli A., Factors Affecting the Development of Bovine Respiratory Disease: A Cross-Sectional Study in Beef Steers Shipped From France to Italy. Front Vet Sci.
2021; 8: 627894.»
Pardon 2011. Pardon B, De Bleecker K, Dewulf J, Callens J, Boyen F, Catry B, Deprez P. Prevalence of respiratory pathogens in diseased, non-vaccinated, routinely medicated veal calves. Vet Rec. 2011 Sep 10;169(11):278. doi: 10.1136/ vr.d4406.
Epub 2011 Aug 10. PMID: 21831999.
Pardon 2015. Pardon, B., De Bleecker, K., Hostens, M. et al. Longitudinal study on morbidity and mortality in white veal calves in Belgium. BMC Vet Res 8, 26 (2012). https://doi.org/10.1186/1746-6148-8-2.
Pardon 2020. Pardon B, Callens J, Maris J, Allais L, Van Praet W, Deprez P, Ribbens S. Pathogen-specific risk factors in acute outbreaks of respiratory disease in calves. J Dairy Sci. 2020 Mar;103(3):2556-2566. doi: 10.3168/ jds.2019- 17486.
Epub 2020 Jan 15. PMID: 31954585; PMCID: PMC7094370.
Ridremont B. Actualités sur les coronaviroses. In : Proceedings Journées Nationales des GTV, Tours, France. 2022; 481-496.
Saif 2010. Saif, L.J., (2010) Bovine respiratory coronavirus. Vet Clin Food Anim 26 (2010) 349–364. doi:10.1016/j.cvfa.2010.04.005.
Schelcher et al, 1998. Schelcher F, Bichet H, Valarcher JF, Foucras G, Bouisset S. Les vaccinations contre les gastro-entérites diarrhéiques du veau nouveau-né : que peut-on en attendre ? Point Vétérinaire. 1998 ; 29 (189) : 35-42.
Stockstad M. Klem TB., Myrmel M., Oma VS., Toftaker I., Osteras O., Nodtvedt A., Using Biosecurity measures to Combat Respiratory Disease in Cattle: The Norwegian Control Program for Bovine Respiratory Syncytial Virus and Bovine
Coronavirus. Front. Vet. Sci. 2020; 7:167.
Suzuki T et al 2020. Suzuki T., Otake Y, Uchimoto S, Hasebe A, Goto Y. Genomic Characterization and Phylogenetic Classification of Bovine Coronaviruses Through Whole Genome Sequence Analysis. Viruses. 2020; 12, 183. Disponible sur :
https://doi:10.3390/ v12020183. Consulté le 8 avril 2020.
Svensson 2003. Svensson, C., Lundborg, K., Emanuelson, U., & Olsson, S. O. (2003). Morbidity in Swedish dairy calves from birth to 90 days of age and individual calf-level risk factors for infectious diseases. Preventive Veterinary Medicine,
58(3–4), 179-197. https://doi.org/10.1016/S0167-5877(03)00046-1.
Valarcher et al, 2020. Valarcher JF & Hägglund S. Bovine coronavirus. In: Infectious and Parasitic Diseases of livestock, vol.2. Lefèvre PC, Blancou J, Chermette R, Uilenberg G, editors. Lavoisier; 2010: 545-552.
Van Rooij 2022. Van Rooij, M.H., Van der Loop, J. A.A., Wouters, P.A.W.M., Makoschey, B., Intranasal vaccination of calves with a live vaccine against bovine respiratory coronavirus in the presence of maternally derived antibodies. 2022, World
Buiatrics Congress, Madrid, Spain.
Vlasora 2021. Vlasova, A. N., Saif L.J., Bovine Coronavirus and the Associated Diseases, Front. Vet. Sci., 31 March 2021| https://doi.org/10.3389/fvets.2021.643220.
Windemeijer 2014. Windeyer, M. C., Leslie, K. E., Godden, S. M., Hodgins, D. C., Lissemore, K. D., & Le Blanc, S. J. (2014). Factors associated with morbidity, mortality, and growth of dairy heifer calves up to 3
months of age. Preventive veterinary medicine, 113(2), 231–240. https://doi.org/10.1016/j.prevetmed.2013.10.019.
GP-FR-BOV-230700003 – Juillet 2023